by
justACRO
7 years ago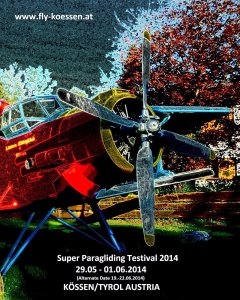 Reserve dates in case of bad weaather: 19.-22. June 2014
On the basis of accurate forecasts on the expected weather developments, the organiazer may move the SPT for security reasons to the alternative date at short notice. This will be promptly made known on this website. For the same reasons and by the same means, the SPT may - if necessary - be canceled entirely after the shift to the alternative date.
Testival Location:
Landing place Kössen/Fliegerbar (Flyer's bar). Thurnbühel 40, 6345 Kössen, Austria
Organzier:
Flugschule Kössen GmbH in Cooperation with the Kössen Lift
Participating Manufacturers:
Advance (CH), Aircross (DE), Airdesign Gliders (AT), Axis (CZ), BGD Bruce Goldsmith Design (FR), Dudek Paragliders (PL), Gin Gliders (KOR), Gradient (CZ), Icaro (DE), Independence (DE), Mac Para (CZ), Niviuk (ES), Nova (AT), Ozone (GB/FR), Paratech (CH), Sky Paragliders (CZ), Skywalk (DE), Sol Paragliders (BR), Swing (DE), U-Turn (DE), UP (DE), Woody Valley (IT), Zunzun (FR), 777 Gliders (SLO)
Event Concept:
The exhibitors provide their products free of costs to pilots for test flying. Instead of having several individual, time and money consuming test camps spread all over the world, all manufacturers offer their products at the beginning of the European flying season central in Europe in Kössen with its ideal infrastructure. For pilots keen to test several brands and to compare on site, this creates cheaper and timesaving possibilities to do so.
For this purpose the flying site in Kössen is ideal:
- The flying site has a perfect infrastructure
- The flying school Kössen GmbH can guarantee an ideal neutral stage for all participating brands to present their products equally
- The north facing mountain slope is known for a soft convergence and mild thermals
- It is also known as a most popular and safe flying site
- It has a large landing field (3 ha) with a "Fliegerbar"
- It is probably the flying site with the most flyable days per year in the Northern Alps and with the probaly highest flying frequency in the world (5.600 safe flights during SPT 2009)
- 4 days seem to be a long enough period to allow all pilots to intensively test all products they want to test.
Conditions for pilots to test a glider:
The pilot must prove by signature that he holds the appropriate flying license and also that he has received briefing about the flying site and the special landing approach.
Unfortunately no reservations for test flying paragliders can be done.
Tandem flights are not possible!
Flying Shows / Demos:
To be able to do as many test flights as possible no official flying shows are scheduled so to keep the maximum airspace and flight time for testing. However on certain occasions exceptions can be organized upon agreement with the organizers.
Accommodation / Camping: Reservations via www.kaiserwinkl.com (make reservations early, because of the long weekend!) No overnight staying or Camping at the exhibition area or the landing field.
Further Information:
Please contact Sepp sepp@fly-koessen.at