by
justACRO
2 years ago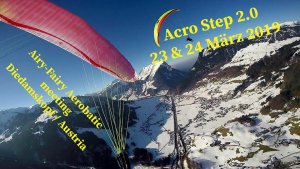 ENGLISH:
Airy Fairy Winter Acro Meeting at Diedamskopf in Austria
- Music and some catering is planned
- Tent / marquee
- Chillout area
- tandem flights (for all non-pilots :) )
- In-Air Music - extra music directed to the Acro-Box
- smoke-granades for purchase
- one Dbag ready for rent
- fat party at Saturday evening :D
- Depending on the wind/weather you get approximately 700m over ground for acro. Big rescue zone!!
-AirG & UTurn demo gliders are available for testing :)
CABLECAR TICKET PER DAY 26€
Check frequently for updates on the event's Facebook page.
GERMAN:
Airy Fairy Winter Acro Treffen am Diedamskopf
- Für Verpflegung und Musik wird gesorgt!
- Zelt
- Chillout Area
- Rauchpatronen können erworben werden
- einen DBag haben wir auch zum Ausleihen!
- Fette Party am Samstag :D
- Je nach Wind/Wettersituation bekommt man ca. 700m über Grund raus zum Manövern, super rescue Zone!!
-AirG & UTurn Testschirme stehen euch auch dieses jahr wieder zur Verfügung :)
TAGESKARTE FÜR ACROPILOTEN 26€
Weitere Informationen Folgen auf der Facebook Seite!