by
justACRO
7 years ago
Location:
Flieger-Base, Annenheim, Austria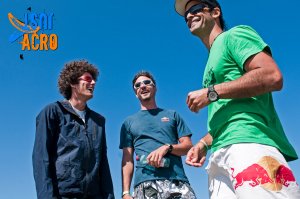 Latest update: 26.07.2016
THE BOOGIE IS ON!
justACRO.com is tumbling to be 10 years old this summer!
I kindly invite all of you to celebrate, let's get together at the Gerlitzen acro paradise! Spend an unforgettable week flying, exchanging knowledge, relaxing, dancing, to remember the good old times and look into the bright future!
- Flying at the world's best over-the-water training site!
- 60 EUR for an 8 days ticket (normal price 94 EUR)
- Meet the scene, old friends and make new ones!
- Let's make our own acro show, just for fun!
- Barbecues!
- Water-slide landing!
- Video contest*
- Prices to win!
- Collective World Record attempts (SAT, Helico, Infinite)!
- Rescue boat on the lake!
- Party! ;)
*Video contest
Kindly inviting you to participate in the Boogie video contest!
It is not about the best trick or the most spectacular shots. We want you to be creative!
The concept:
- Form teams of maximum 5 people.
- Film and edit a short video between 25-30. July (Monday to Saturday) to present it on Saturday evening before the party.
- Length of video: maximum 5 minutes.
- Up to 5 teams can participate (if more, a jury will select).
- To register, send an email to info@justacro.com with the name of the team and the team members.
There are some nice prices to win! ;)
For all comp pilots: this is the week before the AcroMax World Cup, just 1 hour drive away from Gerlitzen! Come and play with us!
Great discount for the 8 days cable car ticket up to the mountain! So instead of 94 EUR, it will be only 60 EUR! This is only valid for participants of the event and only for the 8 days ticket. You will get a voucher when registering on-site. The ticket will be valid for 8 full days, so for example from Monday morning till next Monday evening.
Foreign licences: Happy news for the JustACRO Boogie for all the foreign pilots WITHOUT German/Swiss/Austrian licences!
The new law (announced earlier here) is not yet legally in force so we had to find another solution to solve this problem:
Supported by the local school, Kärntner Flugschulen, there will be the possibility to receive an Austrian Guest Pilot Licence so you can all fly legally! :)
The documentation will be done at the registration for the Boogie. Please don't forget to bring ALL YOUR LICENCES and DOCUMENTS with you!
The Guest Pilot Flying Licence for pilots without a recognized licence will be 10 EUR.
The registration fee for the week is 34 EUR and includes:
- a raffle ticket to win one from many our sponsored prices!
- a big barbecue on saturday evening
- safety boat ready on the lake all week long
- organisation
Hosted by Pál Takáts and Xandi Meschuh at the new Flieger-Base!
This page is still being updated!
See you soon! :)
Pál




In loving memory of Pauli, Alejandro, Antoine, Matthias and all other friends who will be there in our hearths!