by
justACRO
4 years ago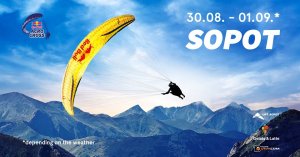 Veso Ovcharov – the Bulgarian top Red Bull athlete - dares the elite in paragliding sports to embrace their abilities into entirely new concept!
Red Bull ACRO CROSS, created and launched by Ovcharov, is a paragliding competition which merges the two most popular styles in the sport – ACRObatics and CROSS - Country into one unique format. The big event is going to take place between August 28th and September 1st at the historical and already famous across flying athletes' location – Sopot.
The entire community connected to the sport is excited to have the opportunity to gain new experiences and embrace their limits. Entering unknown fields is always a challenge, which provokes the interest of the most famous names we know.
So far, we are proud to announcet confirmed participation from top pilots Rafael Goberna, Felix rodriguez, Timothee Alongi, Jack Pimblett, Egor Posokhin, Francois Ragolski. Due to high dependence on the weather conditions, 2 out of 5 days are planned to be flying competition days, so stay tuned about the weather
forecast.